The populations of this riverside insectivore, which is endemic to the Iberian Peninsula, have undergone a significant decrease and it is in danger of extinction in some regions. What is more, this regression reflects the state of deterioration of the habitats it lives in, which means that support from the Nature 2000 Network and on-site improvement activities at the habitats will improve the overall condition and quality of these places.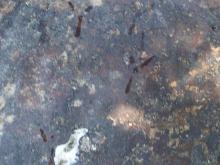 The LIFE+ Desmania project for the conservation of the desman, passed by the European Commission in 2012, involves collaboration from 8 national and regional (Extremadura and Castile and Leon) bodies, and has the following aims:
Discover and analyse the distribution of the species and its population regression.
Increase the knowledge base on the biology and ecology of the species in the regions in which it lives.
Increase the populations of the Iberian desman.       
Improve the state of their priority habitats the species linked to the Iberian desman.
Reduce the effects of natural threats that affect the distribution of Galemys pyrenaicus.
Remove the desman's main threat, the American mink, an introduced species that is highly capable of spreading and adapting to the environment.  
Awareness among the public of the existence of the desman and its dual role as a biological quality indicator for the water resources and the habitats it lives in.